As a young kid growing up in Chicago, playing hockey at the University of Michigan was the dream. I remember watching Brendan Morrison score the game winning goal in overtime to win the National Championship as a 10-year-old and thinking:
"That's what I want to do."
I'm sure we all have those special moments as kids where the lightbulb goes off and our passion-meter reaches full capacity. That memory, without a doubt, was mine.
Well, Michigan never recruited me as a player. And I'm thankful because I couldn't imagine any other experience than the one I had at Cornell.
But it's amazing how full-circle life can be getting the chance to work in Ann Arbor this past year.
And, oh boy, what a year it was.
Coming in at the end of last summer was a whirlwind. As the new Director of Hockey Ops, it was a job I'd never done before, at a place I'd never worked before, and it was trial by fire. And through it all, I got to work alongside some amazing people and made life-changing memories. It made the experience one of the most rewarding I've had in my life.
Beyond the Big 10 championship, Frozen Four, Adam's Hobey, and all the great things we accomplished as a group – the people are what made it so special. With the players, coaches, and staff that make Michigan Hockey go, I've made friends for life.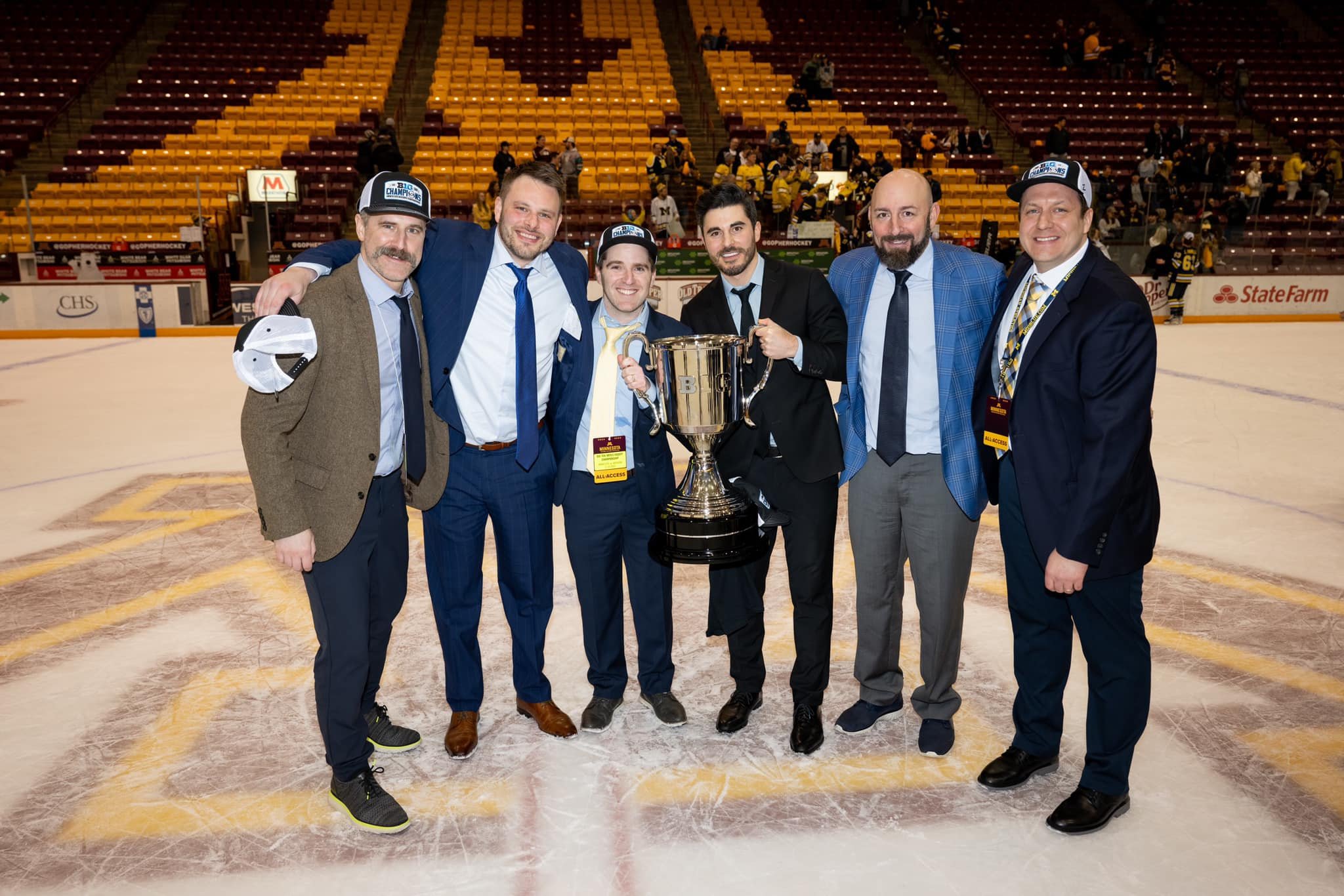 For me, the word that personified what was built within the program this year is LOVE. Love for each other. Love for Michigan. Love for the everyday process of trying to be better.
We built a culture led by one of my best friends in the game that when given the opportunity step in as head coach…on an interim basis…in late August…absolutely knocked it out of the park.
We built a culture that developed strength by an unbelievable group of players that cared deeply about each other and the emblem on the front of the jersey. One that was solidified by a player leadership group that I can't express into words their incredible impact. One that went through a lot of hard times but always came out stronger on the other side. And one that will leave a lasting impact on me for the rest of my life.
Which is why it's so hard to say good-bye.
I feel like so much of life is shaped by tough decisions. The ones that leave your stomach churning and your brain from shutting off as you're weighing your options. I'm sure many of you reading this have been there too…especially, as I'm learning…in your 30's.
Ultimately, you have to do what you feel is right in your heart. And for me, my wife, and my three little kids – that is moving back to Chicago.
Moving back will allow my kids to grow up around extended family. It will give my wife and I some more flexibility to accomplish some goals that we've set out both personally and professionally. And I will say, that as parents, it won't suck to have some help with our three daughters as well.
So, we are headed back to Chicago but leave with some pain inside walking away from another family we built here in Ann Arbor. I will miss seeing everyone around the rink and the positivity that radiated around Yost.
I will miss the staff and the work with our player-centered approach to accomplish the goals we set out as a program. I will miss the players and their relentless pursuit of getting better while being such a fun and entertaining group on top of it. And I will miss the grind and every-day pursuit of winning a National Championship.
What made it all so special?
The people.
I couldn't believe how many of the staff and players, after I told them I was leaving, gave me a hug and said "Love you, Toph".
That shit is real. We always hope to make an impact on the places we go and that was such a great affirmation that the time I spent here was meaningful.
And being down in Nashville last weekend to watch Adam and Gavin get drafted to the same team was the cherry on top. Getting the chance to celebrate with them, their families, and the staff and players that traveled down was amazing and epitomized what sports is all about:
TEAM.
So, what's next?
It's back to the Hockey Think Tank and my pursuit to make a lasting positive impact on the game of hockey. I've had so many great experiences in the game and learned from so many high-level people that I can't wait to pay that forward again to the greater hockey community.
As I reflect, I think it's pretty awesome that I've had the opportunity to be a part of three different Division One programs and won championships at all three places. I'm really looking forward to taking all that experience and helping as many people and as many teams as I possibly can to level up and reach their full potential.
Cheers to another new adventure, I hope you'll follow along. And if you'd like to work together, check out the site as we have some exciting stuff to share…and more to come.